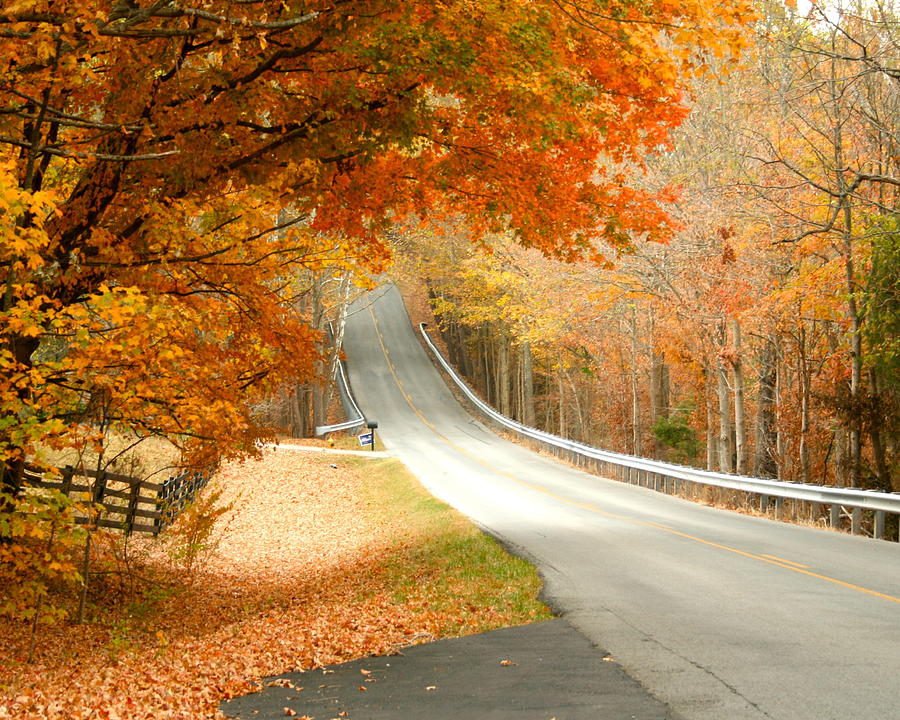 (image via fineartamerica.com, by Sylvia Hart)
Fall is my favorite season of the year. It inspires feelings and yearnings of a sort that I'm not exactly sure how to describe: joy-tinged melancholy, sweet nostalgia, desperate hope, and other pretentious sounding shite like that. Plus, it just feels so damn good outside, day and night--there's something in the air. Thus, it's one of the best times of year for the music listener. Here are 101 songs that beautifully capture those feelings. If you have Spotify,
go directly to the playlist here
, hit shuffle, roll down or open your windows for God's sake, and enjoy.
Phosphorescent - "Wolves"
Lord Huron - "She Lit A Fire"
Red June - "Foolish Me"
Tyler Ramsey - "The Valley Wind"
The Honey Dewdrops - "Together Tied"
The National - "Heavenfaced"
Iron and Wine - "Communion Cups and Someone's Coat"
Futurebirds - "American Cowboy"
My Morning Jacket - "Knot Comes Loose," "Touch Me I'm Going To Scream, Pt. 1"
Band of Horses - "Detlef Schrempf," "Older"
Alela Diana - "Lady Divine"
Jars of Clay - "River Constantine"
Sufjan Stevens - "Romulus"
Daniel Martin Moore & Joan Shelley - "Sweetly By"
Chris Knight - "Rural Route," "The Band Is Playing Too Slow"
Randy Rogers Band - "In My Arms Instead"
Turpike Troubadours - "Leaving & Lonely," "Evangeline"
Neil Young - "Harvest Moon"
John Mayer - "Waitin' On The Day"
Jamie Wislon - "The River"
Over the Rhine - "Cruel and Pretty"
The Avett Brothers - "St. Joseph's," "Ten Thousand Words," "The Fall," "Hand-Me-Down Tune"
the everybodyfields - "Silver Garden"
John Prine - "Blue Umbrella," "Daddy's Little Pumpkin"
Guy Clark - "Cornmeal Waltz"
Lifehouse - "Sick Cycle Carousel"
Terry Reid - "Brave Awakening"
Eddie Vedder - "Rise"
Ray Lamontagne - "A Falling Through"
Chatham County Line - "Chip Of A Star"
The Steeldrivers - "Heaven Sent"
Amos Lee - "Violin"
Water Liars - "Wyoming"
Red Tail Ring - "Katy Came Breezing"
Ryan Bingham - "Never Ending Show," "Don't Wait For Me"
Drive-By Truckers - "A Ghost To Most," "Tornadoes"
Daniel Romano - "He Lets Her Memory Go"
Dawes - "So Well"
The Band - "The Night They Drove Old Dixie Down"
Merle Haggard - "The Way I Am"
Willie Nelson - "The Scientist"
Townes Van Zant - "To Live Is To Fly"
The Salty Dogs - "Another Day In A Small Town"
Great Lake Swimmers - "The Great Exhale," "Various Stages"
Without Gravity - "Waterfall"
Jakob Dylan - "Everybody's Hurting"
The Wallflowers - "I've Been Delivered"
Coaltown - "Better Off Blind"
Open Rail - "Tina At the Teardrop Inn"
Balsam Range - "Better Days"
Jamey Johnson - "That Lonesome Song"
Easton Corbin - "Leavin' A Lonely Town"
Chris Young (with Willie Nelson) - "Rose In Paradise"
Josh Turner - "Long Black Train"
Good Old War - "Amazing Eyes"
Trampled By Turtles - "Victory"
Real Estate - "Out Of Tune"
Modest Mouse - "Autumn Beds"
Trespassers William - "And We Lean In"
Jimmy Eat World - "Polaris"
Ryan Adams - "Anybody Wanna Take Me Home"
Mando Saenz - "They Don't Make 'Em Like You Anymore"
Nick Drake - "Northern Sky"
Johnny Cash - "I See A Darkness"
Hank Williams - "Cold Cold Heart"
Levon Helm - "The Mountain"
Emmylou Harris - "Shores of White Sand"
The Vines - "Autumn Shade II"
Small Faces - "The Autumn Stone"
The Last Bison - "Autumn Snow"
Fleet Foxes - "Blue Ridge Mountains," "Sun It Rises"
George Strait - "The Chill Of An Early Fall"
Cal Smith - "Country Bumpkin"
Doc & Merle Watson - "When the Work's All Done This Fall"
Punch Brothers - "Clara"
The Tillers - "The Unpainted Picture"
Iris Dement - "Our Town"
Nathan Reich - "Sweet Isolation"
Lucero - "Slow Dancing"
Horse Feathers - "Last Waltz"
Father John Misty - "Hollywood Cemetery Forever Sings"
Sons Of Bill - "Broken Bottles"
Truckstop Darlin' - "Sad Sweet Songs"
Corb Lund - "September"
Damien Rice - "Amie"
Beach House - "Myth"
Sleeping At Last - "A Skeleton Of Something More"
Mazzy Star - "Fade Into You"